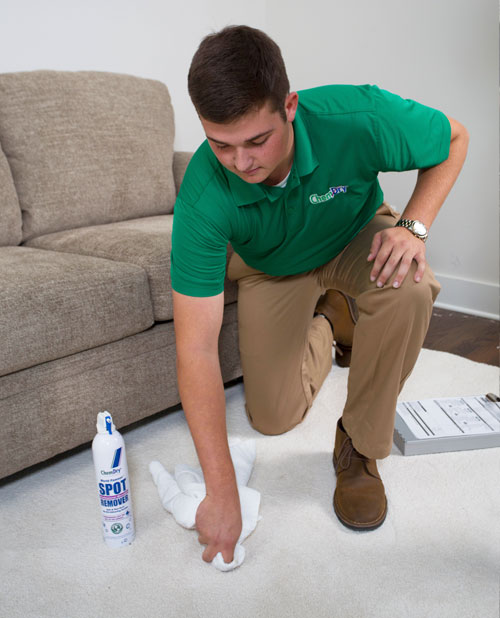 Specialty Stain Removal in Severn & Odenton
Some stains seem like they will never come out. If you have ever spilled wine or fruit punch then you understand how frustrating a stain can be. Here at Clawson Chem-Dry we specialize is removing the tough stains. Our special stain removing solutions are specifically designed for the seemingly impossible stains like wine, fruit punch, Coffee, ink, and lip stick. If you have a difficult stain that needs professional help, call the stain removal experts at Clawson Chem-Dry. We offer our powerful stain removal service to residents in Severn, Odenton, and Fort Meade. Beyond providing industry-leading cleaning solutions for carpets, upholstery and area rugs, our professionally trained technicians are fully equipped to handle even the most stubborn stains.
Chem-Dry professional technicians can remove most any stain. Armed with an arsenal of the industry's finest stain-removal products and tools, Chem-Dry can remove, or minimize all types of stains.
Your best chance for removing a stain is as quickly as possible after the spot is made. The longer a spot sits on the carpet or upholstery, the harder it becomes to remove. While most stains can be removed, some require advanced technical skill and expert cleaning solutions. Chem-Dry leads the industry in products and solutions, helping you win the battle against tough stains.
Chem-Dry technicians are willing to try and remove any stain. We have had success removing spots such as: berries, soda, juice, blood, candy, nail polish, coffee, honey, Kool-Aid, jelly, mud, lipstick, Ketchup, marker, rust, throw-up, urine, wine and many others. Each stain is somewhat unique, but our staff is expertly armed to battle even the toughest stains.
"If we can't get it out. No one can." Your Chem-Dry professional is prepared with tools to remove virtually any stain. Our technician will prepare an on-site evaluation for any stains and provide a no-obligation estimate.
From ink to wine and coffee, glues or other seemingly permanent damage, you can trust Chem-Dry to remove those stains. Call today to learn more.
Specialty Stain Removal
Rated
4.9
/5 based on
17
customer reviews
Sometimes removing stains feels hopeless. Luckily, Clawson Chem-Dry has specialty stain removal products that are specifically designed to remove the most difficult stains.
Customer reviews:
I Will Forever Be Grateful
- by
Leah L
, February 23, 2016
'After spilling an entire can of paint on almost new wall to wall berber carpeting, I frantically called Clawson Chem Dry for advice. They told me exactly what to do to immediately reduce the damage, and were able to come out the next day to clean the carpet. They were extremely knowledgeable, helpful, and friendly. They were able to get out most of the stain, and I will forever be grateful!! I highly recommend Clawson Chem Dry.'
Prices Were Awesome
- by
Brittany M
, July 19, 2017
'On time very thorough and detailed cleaning , explained everything and the services and prices were awesome!!!'
...